I got the opportunity to go back with Doug and Kris for another day on the water. We got started around 8:30 am and floated from the Elizabethton Launch. The day started at a bone chilling 24 degrees as we shuved off and started the float. There were a few trucks at the launch and 3 boats launched all around the time we started our drift. We knew it would be a good day, seeing as the high temperature was supposed to reach 55 degrees with clear skies.
The day started off the same as the last time we floated, maybe even a little slower. It started off slow but picked up rather nicely. We snagged decent fish at a moderate pace until making it down to the caddis riffle. Kris finished off his grand slam (a bow, a brown, and a brookie) just before coasting in. We anchored the boat and set off to wade in knee high and make waves in a different way.
Here's some of that early action!
Here's some of Kris's handy work with the net!
Kris offering the fish a moment of peace.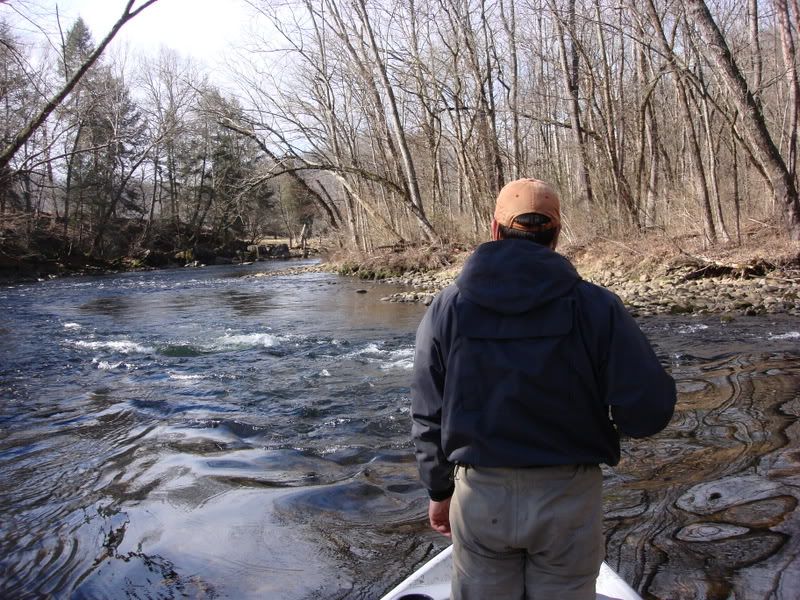 What dreams are made of!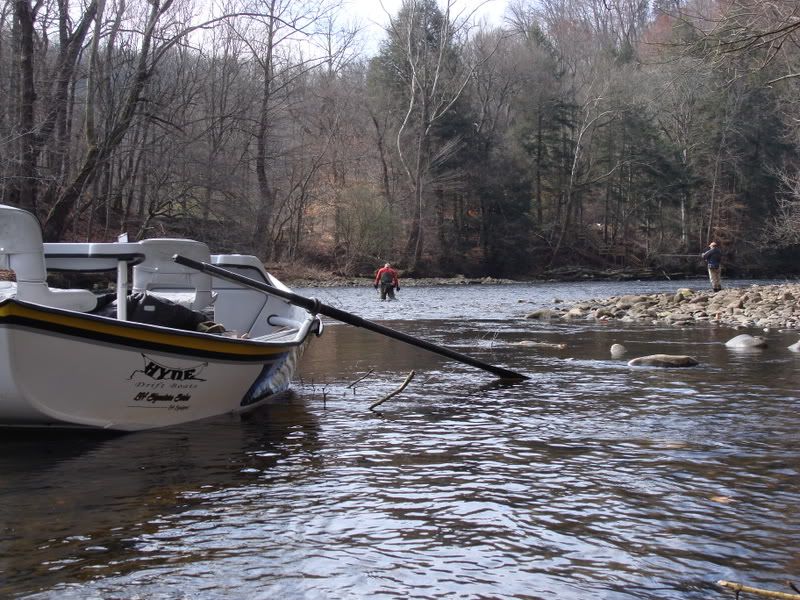 Doug and Kris ventured downstream killing fish as fast as they could while I ventured upstream of the boat towards a slower moving but promising looking riffle. This seemed to pay off upon loosing half of my leader to a brute of a fish. I was a little disgusted, after losing my flies and having to wade into the hole to retrieve my indicator. After retrieving my indicator and re-rigging I made a long cast above the riffle and floated it through. I felt the tug and on pursued a good fight. I brought to hand a solid and extremely fat 15, or so, inch fish.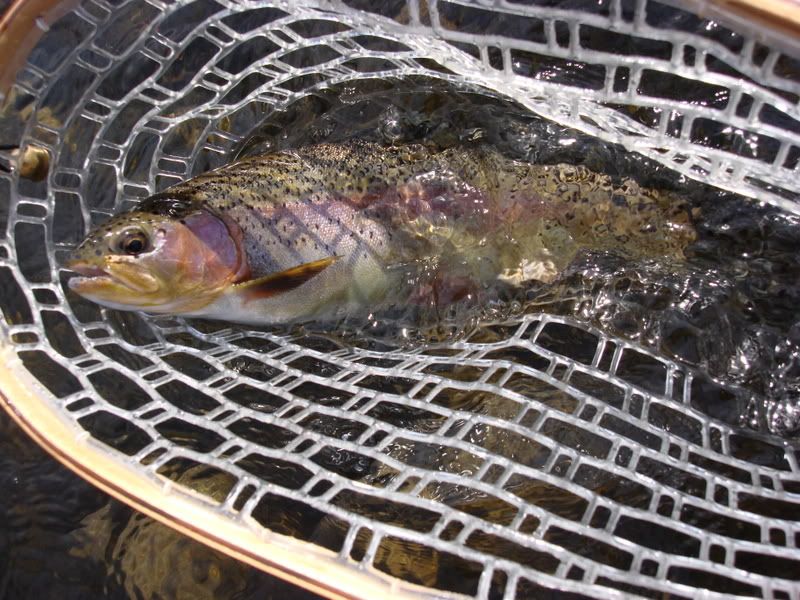 Now, after making the initial probe with a hook up, I knew it was time to get serious and make the cast I wanted to take. The seam of the riffle where I knew a big fish would lie. The cast was made, a steady drift followed, then a very abrubt stop with a dissapearance of my indicator followed. Hooooook settt, I believe I murmurmed to myself. This 18" fish, set of with an arial display, followed by several rolls, and consistant dives to the bottom and back into the current. I yelled down to Kris "This is a good one!" Kris started towards me, as I brought the fish to net. In the process of landing and hook removal my camera decided to make a sacraficial leap of faith. Damn! Luckily the camera strap somehow managed to land on my pinky finger but didn't manage to prevent the camera from taking a bath. Damn again! Kris came to my aid, and was also kind enough to snap a picture or two. Though I will say the picture is a less then desirable picture of myself. But that's not why where here and I'm not posing for PlayGirl anywho! No, I wasn't sneezing, I believe I was saying "Huh?"
Either way here's the fish porn.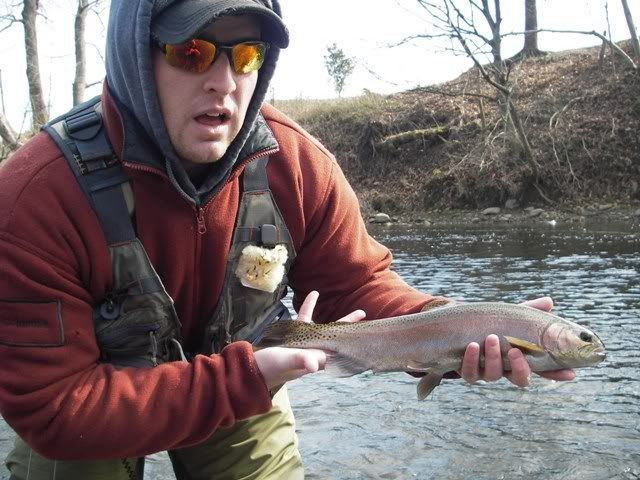 We settled back into our slots. All three of us had a section of water we were working when it happened. TRIPLE! I beleive Doug shouted when I hooked up on a fish. Doug and Kris were both in mid fight when I hooked into another fish making Doug shout "Triple!" That's a good feeling and I would imagine that it doesn't happen all that often on the Watauga in 30 degree weather. I managed around 8 to 10 fish from my little honey hole, and I believe they both managed at "least" 10 fish a peice, from their little section of river. By this point and time I've witnessed a grand slam, a fish over 20, and now a triple. Not much else to do now but enjoy the rest of the float downstream!
I did get to enjoy the rest of that float and even got the opportunity to row Doug's new Hyde Low Pro. I will say I had an idea of rowing and thought I knew how easy it would be. I started off just trying to move the paddles in sync, a feat in itself! I never moved the boat in circles and it's definately something that takes a little muscle memory. It's alot more sensitive than it looks like it would be and takes a little coordination. It was nice to get to sit down and give it a try. Now, I just have to work on getting one of my own. I managed to row in a straight line for about 100 yards before finally kicking the boat around to float forwards and anchor off. We stopped at a good riffle that was already tied up with another boat and it's fisherman. Doug and I stayed in the boat, while Kris got out and worked down to the other guys. Doug's ankle was hurting, and I was just completely satisfied with what we had already accomplished. Kris worked the riffle where the other two guys where and we floated down to pick him up. We worked another good section of water, picking up a few more fish before settling down on another good spot while in the boat.
Kris and Doug managed quite a few nice fish in a sweeping, slower, deeper run of a riffle. I managed myself out of the boat and downstream of the guys. Something I forgot to mention, is somewhere between the campground and my current location I had lost my only working fly. I got a few hits the rest of the day but nothing seemed to locate fish the rest of the day, at least for me.
Here is a pic, courtesy of Kris, of Doug's fish.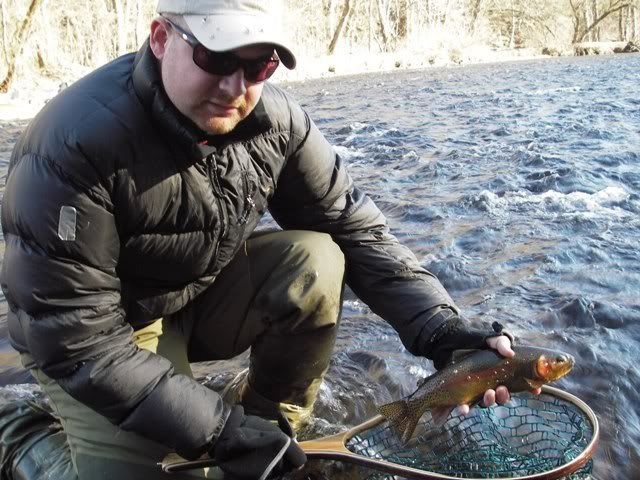 We floated on down through the last sections of water picking up another fish or two. We passed two anglers hooking up on every cast. We anchored off about 50 yards past them to see if we could manage the action ourselves. I re-rigged while Kris hooked up on a few more good fish and I believe I even managed one or two more.
Here's a picture of one of my last fish of the day.
We anchored up and floated down to the steam plant to pack in for the day. I believe we pulled the boat out around 6:00pm, and talked to a few guys about their day on the water. No one really complained and there was three smiles on three individuals faces for sure. Over all, it was an excellent winter day on the Watauga. One that won't be soon forgotten. Everyday that I get to spend on the water, is building a lifetime worth of memories and something to pass on to my friends and family.
~Brett